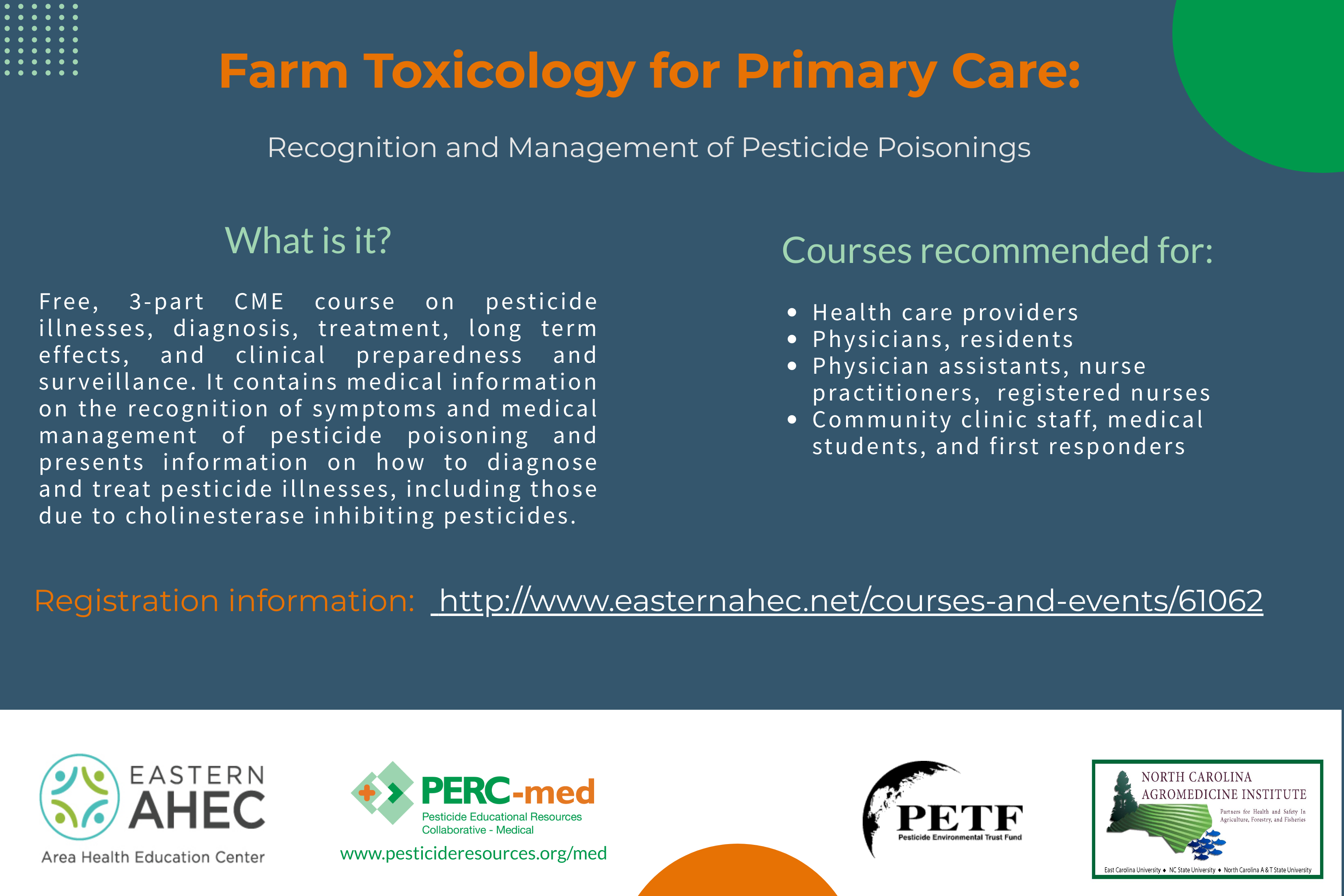 Greenville, NC -- The Brody School of Medicine at East Carolina University, North Carolina Agromedicine Institute, and Eastern Area Health Education Center, supported by PERC-med (Pesticide Educational Resources Collaborative for Medical Professionals) and the Pesticide Environmental Trust Fund (PETF) have collaborated to provide free education and training continuing medical education (CMEs) for clinicians. This program, titled Farm Toxicology for Primary Care: Recognition and Management of Pesticide Poisonings, is a three part course on pesticide illnesses, diagnosis, treatment, long term effects, and clinical preparedness and surveillance. It contains medical information on the recognition of symptoms and medical management of pesticide poisoning and presents information on how to diagnose and treat pesticide illnesses, including those due to cholinesterase inhibiting pesticides. This course is designed for health care providers, including physicians, residents, physician assistants, community clinic staff, medical students, nurse practitioners, registered nurses and first responders. The course can be accessed through the PERC-med website.
William J. Meggs, MD, PhD, Professor, Division of Toxicology at the Brody School of Medicine at East Carolina University said, "Healthcare providers must be prepared to diagnose and treat every patient that comes their way. Practitioners in rural areas need to consider toxicants found on the farm in their differential diagnosis of acute and chronic illnesses. Farm Toxicology for Primary Care is an online education course that gives providers the tools needed to effectively recognize and manage farm-related pesticide exposures."
---
About Eastern Area Health Education Center
The Eastern AHEC (Area Health Education Center) program provides and supports educational activities and services with a focus on primary care in rural communities and those with less access to resources to recruit, train, and retain the workforce needed to create a healthy North Carolina.
About PERC-med
PERC-med is the Pesticide Educational Resources Collaborative for Medical Professionals, a 5-year cooperative agreement (#X-83935901) between the U.S. EPA's Office of Pesticide Programs and University of California Davis Extension, in collaboration with Oregon State University. PERC-med is an interdisciplinary team with a strong culture of collaboration. The project's Advisory Board includes scholars in toxicology, nursing, public health, agricultural education, as well as practicing medical providers. The primary goal of this project is to widely promote and market pesticide-related health resources to medical providers across the U.S. to help them prevent, recognize and treat pesticide-related health conditions.
About the North Carolina Agromedicine Institute
The North Carolina Agromedicine Institute is a University of North Carolina inter-institutional institute whose partners are East Carolina University, North Carolina State University, and North Carolina Agricultural and Technical State University. In addition to the university partners, the Institute relies heavily on its collaborative partnerships with the agricultural community, other universities, businesses, health care organizations, governmental agencies, and non-governmental organizations who are dedicated to identifying and addressing the health and safety risks of farmers, foresters, fishermen, their families and communities in North Carolina. The goal of the program is to reduce injury and illness by conducting research that leads to practical solutions and developing effective educational approaches that can be of benefit daily to the end user. Ultimately, the partnership wants farming, logging and fishing workplaces to be safe and healthy for all.
About the Pesticide Environment Trust Fund
In 1993, the North Carolina General Assembly enacted legislation creating the Pesticide Environmental Trust Fund (PETF). The predominant purpose of the fund is for those pesticide-related environmental programs administered by North Carolina Department of Agriculture & Consumer Services (NCDA&CS). The authority to use this funding is "...as directed by the Board...", therefore, the NCDA&CS may utilize these funds for Departmental environmental programs, with oversight from the North Carolina Pesticide Board.
For more information or media inquiries, connect with PERC-med at:
pesticideresources.org/med
amos@amosANDadvisors.com
215.287.7879
Pesticide Education Programs
UC Davis Continuing and Professional Education
1333 Research Park Drive
Davis, CA 95618